Man I did SO GOOD for awhile there! :) So here's my super duper loooooong post to catch up!
So the very best new thing in our house for Elli is her "my Lucas"! It all started when my dear internet buddy Wendy randomly sent me a video with her son Lucas talking on it. Elli saw it and LOVED it! She wanted to watch it all day. And that is how two tiny kids started being internet buddies! Now they send videos back and forth and have even sent eachother snail mail cards :) This layout is of Elli watching Lucas' video and blowing him back some kisses! This layout was made with sketch #10 over at
Gettin Sketchy
!
We have some WAY COOL stuff goin on this month over at
Scrapcity
! We are having our next crop the weekend of the 25th-27th and you for sure don't want to miss out on all the fun challenges, games and prizes :) We have also started a brand new challenge system over there! Each month on the first of the month there will be nine challenges to get your mojo goin! For every one you complete your name will go in the hat for a prize! Woop Woop!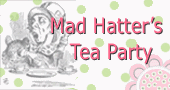 You are cordially invited to our Mad Hatter Tea Party at
Serendipity Scrapbooks
. Since Mother's Day is right around the corner we thought that a Tea Party would be appropriate. So come on out and celebrate the many different hats we wear as women. There might be even a little May Day Celebration thrown in to our Tea Party. (note: crumpets and tea will be served!) The Mad Hatter Tea Party will begin on Friday April 25th through Sunday April 27th. We will also have pre crop challenges that will begin on Friday April 18th. All challenges will be posted by 12 noon est/9am pacific. Our awesome Design Team is busy coming up with some really neat challenges and games to keep you inspired. The Mad Hatter Tea Party will consist of 20 prizes to be had in one small weekend. Oh and you can't forget about our Blue Light Specials. They can be any where from 20% off to 50% off of specific items. Everyone loves our Blue Light Specials and you never know when they will appear over the weekend. You can also compete for points to be crowned Alice in Wonderland of our Tea Party. We hope to see you there for some wonderful inspiration and loads of fun!
We are also having another celebrity chat at
Serendipity
! This month our guest chat is with the Owner of the wonderful new company called
Pink Paislee
!! Come and join us on Tuesday the 22nd at 9pm EST. This is 6pm Pacific/7pm Mountain and 8pm Central time in our Chat room. Just come to the forum and at the top click on Chat.
Over at
Sassy Scrappers
we are halfway through our fabulous month long grand opening celebration!!!! There are SO MANY challenges it's just plain ridiculous :) We have two awesome sponsors! Big thanks to
Treasured Scrapbooking
and
Cupcake Scrapshop
!
So I have been in a total scrapping funk lately! Thankfully last night my buddy Wendy picked a challenge for me and gave me my orders LOL This layout is for the
Scrapcity
monthly challenge, which was to make a layout about your signifigant other :) This layout is of a sweet picture that Lexi took of them at the park a few weeks ago! This one actually made me get all teary when I was makin it :) Thanks Wendy for the kick in the rear! It was made with this months kit from
Treasured Scrapbooking
!